5 Delicious Recipes For Expecting Mamas With Gestational Diabetes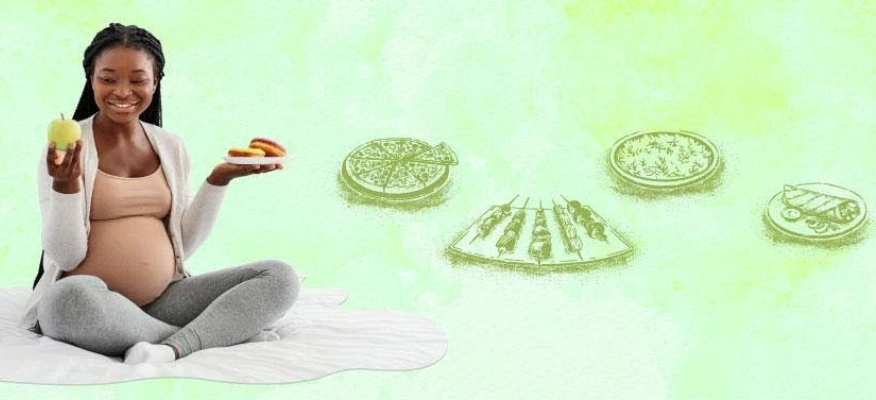 Key Highlights
Receiving a diagnosis of gestational diabetes during pregnancy might be frightening.
However, following a well-balanced diet will help you maintain a healthy pregnancy by reducing your blood sugar levels.
Every day healthy eating looks different through pregnancy, and you should feel free to consume any foods you choose.
You'll find simple and nutritious dishes in this article that will help you and your baby regulate blood glucose and offer critical nutrients.
You're probably worried if you've been diagnosed with gestational diabetes. You're already adjusting to various changes in your body during pregnancy. Not only is receiving the diagnosis difficult but there's also the problem of adopting the lifestyle changes that will help you manage the disease during your pregnancy.
Take solace in the fact that you will not only be able to maintain a healthy pregnancy, but you will also be able to do it without adhering to a rigorous diet, through some simple gestational diabetes food ideas.
Continue reading to find out what causes gestational diabetes, how to eat healthy when pregnant, and how to make simple yet delicious recipes and meals. The goal is to develop long-term behaviors that are easy to manage and stress-free while yet allowing you to maintain a healthy blood sugar level during this joyful period.
Living with gestational diabetes
Women diagnosed with gestational diabetes are advised to adhere to a prescribed diet as it is often possible to regulate blood sugar levels through the consumption of nutritious foods and regular exercise. By incorporating suggested meal options for gestational diabetes, it is possible to reduce the need for insulin injections or other medical interventions.
Worry not moms: after a gestational diabetes diagnosis, mothers all over the world can (and do!) have healthy pregnancies that result in healthy infants. The key is management, and a lot of that is influenced by what you consume.
You'll have to experiment with different foods with health benefits and measure your glucose levels to figure out which foods cause increases. If that's the case, try something else or seek credible health information, and help from your healthcare professional.
Foods For Mothers With Gestational Diabetes
While gestational diabetes recipes should always be customized (by a dietitian or diabetes educator), there are some general guidelines that can help you keep your blood sugars in check:
Including high-fiber foods in your diet helps in minimizing spikes in blood sugar levels. Optimal choices for increasing fiber intake include vegetables (preferably with the skin), whole grains, nuts, seeds, legumes, lentils, and fruits.
Your carbohydrate consumption will almost certainly need to be restricted. Carbohydrates are still essential for your and your baby's development (never go below 175 grams per day when pregnant), but eating too much at once might cause blood sugar to surge. Your dietician can assist you in developing a plan that is tailored to your specific needs.
Protein and fat can also assist to decrease the entry of blood sugar into the system, so incorporate them into every meal and snack.
Easy And Healthy Recipes For Gestational Diabetes
If you have gestational diabetes, type 1 or 2 diabetes, or both, here are some gestational diabetes recipes that may help you control your blood sugar (also known as blood glucose). Need some quick, easy, and healthy meal and snack ideas for gestational diabetes? Read on to know them!
1. Crustless Quiche with Broccoli and Cheese
This crustless quiche is flavorful, creamy, with a bit of spice, and filling — it's a fantastic low-carb vegetarian breakfast. Because they're low carb, high protein, and moderate to high in fat, crustless quiches are a fantastic diabetic breakfast option. Don't forget that breakfast sets the tone for the rest of the day's blood sugar levels.
This quiche covers all of those areas, plus adds plenty of broccoli for added nutrition and fullness.
Ingredients:
Broccoli Florets (about 3 cups)
1 tsp. avocado oil (or alternative)
Garlic, 3 cloves
Eggs, 5 large
Sriracha, 3 tbsp.
1/2 cup whole milk ricotta cheese
1/2 cup sharp shredded Cheddar cheese
1 tbsp. salt
Serves: 6
Procedure:
Preheat the oven to 400 ℉. On the hob, heat a large skillet over medium heat. When the skillet is heated, add the broccoli and 1/2 cup of water. Cook until all of the water has evaporated.
Meanwhile, whisk together the eggs, sriracha, ricotta, cheddar cheese, and salt in a large mixing bowl. Whisk everything together until it's smooth. Remove from the equation. Garlic should be roughly chopped.
Add the oil and garlic to the skillet once the water has evaporated. Cook for 3 minutes after adding the broccoli.
If using an oven-safe skillet, scatter the broccoli evenly across the pan and then pour the egg mixture over it.
Transfer the broccoli to the quiche dish and pour the egg mixture over it if you aren't using an oven-safe skillet.
Fill up any gaps with the egg mixture.
Bake for 20 to 25 minutes in the center of the oven, or until the custard in the top middle of the quiche is firm to the touch.
2. Citrusy Chicken Skewers with Couscous
Chicken might be an excellent choice for diabetics. The chicken comes in a variety of cuts, all of which are strong in protein and low in fat. Chicken may be a terrific item in a healthy diabetic diet plan if prepared properly. With a splash of flavors like lemon, garlic, and mushrooms, this recipe is a sure shot hit if you have gestational diabetes. Serve it as an appetizer or add it to a wrap or a tortilla and enjoy!
Ingredients:
1 large (200g) chicken breast, sliced into strips
Buttermilk, 4 tbsp
1 tablespoon pesto
1 garlic clove, smashed
1 red pepper, peeled and chopped
2 big mushrooms, thickly sliced
Couscous (150g)
200 mL boiling chicken stock
Grated zest and juice from a single lemon
Rocket leaves, 80g
Rocket leaves, 80g
Serves: 2
Procedure:
Stir together the chicken, buttermilk, pesto, and garlic in a mixing bowl. To avoid scorching the wooden skewers, soak them in water for 15 minutes.
Allow for a 20-minute marinating period. Alternate threading the chicken, pepper, and mushrooms onto skewers.
Place under a hot grill for 6-7 minutes, flipping halfway through.
Meanwhile, in a mixing dish, combine the couscous, stock, lemon zest, and juice. Cover with clingfilm and set aside for 5 minutes.
Serve with the chicken skewers after mixing with the rocket leaves and spring onions.
A great gestational diabetes recipe!
3. Baked Gnocchi with Lentils and Veggies
This recipe for Vegetarian Baked Gnocchi with lentils is not only satisfying and nutritious, but it also requires minimal preparation time. Additionally, it is suitable for gluten-free diets, rich in plant-based protein, and can be conveniently stored in the freezer. The best part is that you can prepare the entire meal using just one baking dish.
The recipe is rather flexible, and you don't need to measure anything too precisely (basically, just throw any vegetables you like in there); the majority of the components are pantry staples that require little work, such as passata, dried herbs, tinned lentils, and, of course, gnocchi.
Ingredients:
Gnocchi (500 g) (Use a gluten-free potato or cauliflower gnocchi)
1 broccoli head
1 or 2 zucchinis (depending on the size of the zucchini, use 2 if small)
1 onion, red
a couple of huge handfuls of baby spinach
1 tin drained and rinsed brown lentils (400-gram tin)
2 cups tomato passata
1 cup of water
2 tsp powdered garlic
2 tsp Italian herb mix (dry)
feta cheese, 100 g
1 cup shredded mozzarella or cheddar cheese
2 tbsp olive oil (extra virgin)
seasoning with salt and pepper
Serves: 4
Procedure:
Preheat the oven to 180 degrees Fahrenheit (350 degrees Fahrenheit).
Zucchini, broccoli, and red onion should all be chopped into small parts. Toss with olive oil, garlic powder, and salt and pepper in a baking dish. Roast for 20-25 minutes, or until the vegetables are tender and beginning to brown.
Remove the dish from the oven and stir in the gnocchi, lentils, passata, water, baby spinach, and dried herbs, along with a touch of salt and pepper. Combine all of the ingredients in a mixing bowl, then equally distribute them in the baking dish.
Crumble the feta and sprinkle it over top. The grated cheddar/mozzarella should be added next. Return the dish to the oven and bake for another 20 minutes, or until the cheese has completely melted and the casserole has begun to bubble and brown.
This dish can be a great addition to your gestational diabetes diet menu ideas!
Please note:
You can certainly substitute other vegetables for broccoli and zucchini in this recipe. Cauliflower, green beans, mushrooms, capsicum, and eggplant are some other vegetables that would work well in this recipe.
If you don't have any dried Italian herbs on hand, a pinch of dry parsley, thyme, oregano, or basil would suffice.
You can use shredded cheddar or mozzarella cheese, or a combination of the two! Also, replace all of the cheese in this recipe with vegan cheese to make it vegan.
4. Jumbo Bean & Mushroom Enchiladas
Ingredients:
1 tablespoon of butter
2 Zucchini (about 2 cups)
1 red bell pepper (equal to 1 cup)
1 red bell pepper (equal to 1 cup)
1/4th cup Onion (white)
Cilantro, 1/4th cup (chopped)
Canned Black Beans, 8 ounces
Tomato Sauce 230 grams (unsalted)
1/4 tsp Garlic Powder
1/4 tsp Black Pepper
1/2 teaspoon dried oregano
1/2 teaspoon salt
1 tablespoon chili powder
1 tbsp Parsley (dried)
110-gram sour cream
1 and a 1/2 cup Cheddar Cheese, Shredded
125 grams of Green Chilies (optional)
6 Tortillas – High Fiber and Low Carbohydrate
Serves: 6
Procedure:
All vegetables should be cut into 1/4th-1/2th inch chunks. Preheat the pot over medium heat. When the pan is hot, add the oil and vegetables and cover. Cook for 7-10 minutes.
Chop the cilantro 2-3 times. Set aside.
Drain and rinse the beans. Set aside.
Preheat the oven to 350 degrees Fahrenheit.
In a small pot, warm the tomato sauce, water, and spices over low heat.
Combine the sour cream, 1/2 cup cheese, and 1/2 cup hot red sauce in a mixing bowl.
Stir the sour cream mixture, beans, cilantro, and chilies into the vegetables in the pot.
Roll each enchilada with a third of a cup of filling inside the dish. Cover with the remaining red sauce and the remaining cup of cheese.
Preheat the oven to 350°F and bake for 15 minutes. To bubble the cheese, broil for 1-2 minutes near the end.
Keep in mind that portion sizes of carbohydrate items DO matter when you have gestational diabetes, and your provider, diabetes educator, or dietician should provide you with a tailored plan based on your current blood sugar levels.
By selecting meals and snacks from the provided list, you can make choices that support both your blood sugar management and the nourishment of your baby's growth and development.
Meals To Avoid If You Have Gestational Diabetes:
Jar sauces, for example, might have a lot of sugar in them. Make your meals from scratch so you know exactly what is in them.
Tomato ketchup, brown sauce, and BBQ sauce are examples of table sauces. Gravy granules and sauce thickeners contain a lot of sugar, even the low-sugar varieties, so try to avoid them and instead use mayonnaise or creamy sauces. Due to the flour and thickeners used in these gravies and sauces, some women may find them difficult to handle.
For gravies, try utilizing meat juices and stock cubes, and look for sauces that don't require flour or thickening agents. As natural thickeners, use celery, butter beans, lentils, chickpeas, and butternut squash in stews and soups.
For some mothers, tomatoes might be difficult to tolerate. Many recipes call for chopped canned tomatoes or tomato puree. Compare product labels to find the ones with the least amount of total carbs. Increase the quantity of protein in the meal by including a lot of meat, keep the number of starchy carbs low, and give it a shot. You'll never know unless you try.
Keep a watch on your carb intake! With larger meals, it's easy to double carb without even realizing it, so pay special attention to what starchy carbohydrates are on your plate, then consider the additional types of carbs you might be adding on top, such as carb-heavy vegetables like root vegetables.
Keep a watch on your carb intake! With larger meals, it's easy to double carb without even realizing it, so pay special attention to what starchy carbohydrates are on your plate, then consider the additional types of carbs you might be adding on top, such as carb-heavy vegetables like root vegetables.
Following dinner, it is advisable to refrain from consuming desserts or puddings. Since larger food portions can be challenging for your body to process, it is recommended to wait for an hour, monitor your blood sugar levels, and then indulge in a dessert as a special treat.
Read more : Morning Sickness: All You Need To Know
Conclusion
Gestational diabetes poses a great threat to your health during your pregnancy and in the long run after delivery. Preterm birth, obesity, and low birth weight of your child are just some of the complications that may occur.
Having specific foods and a customized diet plan goes a long way in keeping your blood sugar levels. Try the gestational food ideas mentioned in this blog to manage it!
Furthermore, getting creative in the kitchen adds that fun factor to your diet. Try these easy and healthy gestational diabetes recipes. A great addition to your gestational diabetes menu ideas, don't you think so?
Keep reading our nutrition blogs for more healthy information!